Listen to sample tracks and Buy the Excitable CD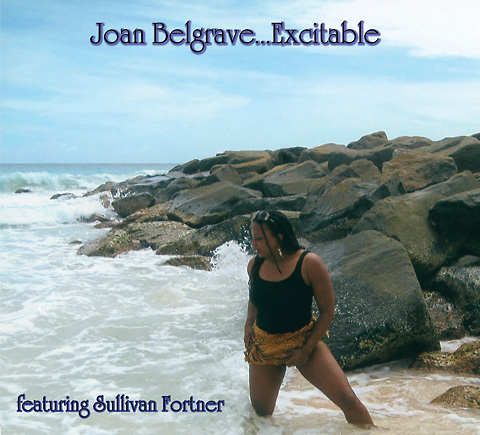 Joan Belgrave - Vocals
Marcus Belgrave - Trumpet
Charlie Gabriel - Tenor Saxophone
And featuring Sullivan Fortner on Piano
Joan Belgrave and husband, Marcus Belgrave, let their personalities shine through in this recording.
Semja Update Review of "Excitable"
-BY PIOTR MICHALOWSKI, October 2009
Something exciting: Joan Belgrave at Kerrytown this weekend
Back in June our frequent jazz correspondent Charles L. Latimer wrote about the life and revived career of vocalist Joan Belgrave, who can "belt pop, R&B, classic rock, the blues and jazz," but whose forte in any genre is delivering love songs in a voice "so soothing and sexy, she could give a pit bull goose bumps."
Belgrave's new album, a mixture of standards and love-song originals, is Excitable, and it's having its official release with two nights at the Kerrytown Concert House, Friday and Saturday, with shows at 8 p.m. Admission is $25. The crack band is helmed by Belgrave's husband, trumpeter Marcus Belgrave, with Charlie Gabriel on sax, Gayelynn McKinney on drums, Jeff Halsey on bass and Simon Fortner on piano.
Followers of the local jazz scene should recognize all of those names, with the exception, likely, of Fortner. Anyone who knows Belgrave should know about his ear for young talent, from Kenny Garrett and Geri Allen, through more recent Belgrave picks, notably Chicago trumpeter Corey Wilkes, now recording as a leader and with the Art Ensemble of Chicago. Belgrave came across New Orleans-born Fortner in his teacher duties at Oberlin, and tapped him to play on Joan's disc and now this gig. He's a name to remember. "Swinging Charles," as we call him, was particularly taken with Fortner's way with backing vocals, an art in and of itself.
These two nights of music, btw, are part of the Kerrytown's 25th anniversary celebration. In this economy, seeing a vital institution like Kerrytown mark such an anniversary is cause for celebration.
- W. Kim Heron, Metro Times 9/18/2009
"Joan's remarkable control enriches the delivery of any song" …."Marcus' full muscular tone" adds depth as it reaches inside your soul………The "provocative I'll String Along With You.....the Horace Silver/Andy Bey-reminiscent "He Called My Name" – …."Excitable… new music and lyrics that are both refreshing & exciting"
---P Fallico – KCSM, San Mateo CA
…."They Have as much fun in the recording Studio as on stage, creating a natural sound that's easy to fall in love with"
- A Smith ---- Boston, MA
"Absolutely LOVE IT!!!" - Afrikahn Jamal Dayvs – KKUP – Santa Clara, CA
Metro Times article about Joan


Copyright 2004. All Rights Reserved.